Some may know about the Geeko's Tube, I'm not so sure that many do though.  There has been for a while now tube.opensuse.org, this is the official repository of videos by openSUSE people.  All the video is in .ogg format, and as such will play straight out of the box regardless of whether users are purists/pragmatists/whatever.
There are several services out on the web that offer video streaming in flash, one that caught my attention is blip.tv.  So why is blip different to YouTube et al?  Well for starters they openly use Open Source (they're not ashamed of it), they support multiple formats for uploading and playback, and they provide multiple mechanisms to get your shows out there.
After some consultation on the mailing lists and IRC, I have created an openSUSE channel on blip.tv – http://opensuse.blip.tv The aim is for videos by the openSUSE Community for the openSUSE Community can get uploaded there and reach a much wider audience.  There are only a few videos on there at the moment but the content will grow (I'm just having a few ISP issues over here :-/ ).  So what content is able to go on there?  The short answer is any, yes there are only a couple of catches: they must preferably be clean (remember the audience is varied from young to old), have an openSUSE twist (the whole reason for the channel).  At present there are a few screencasts and some presentations by community members at events (granted they're all employees, but that doesn't make them any less a member of our community).
Just to show some of the ways you can watch the channel:
Banshee (out of the box openSUSE 11.0 install)
Browser (again out of the box openSUSE 11.0 install)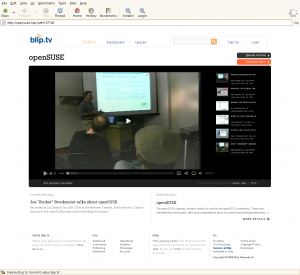 Miro which you can download, just look here.
As the channel is syndicated via RSS you can subscribe to it using Banshee/Miro and it will automatically download the latest episode for you (sorry I haven't tried in KDE, but I believe it should work).  You can also add the RSS feed into your preferred reader and pull the attachments from there.
I would be really keen on getting people's feedback and also if people have content they would like to get on there.
Both comments and pings are currently closed.