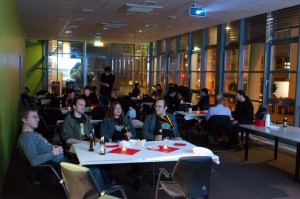 Yesterday evening we had in Nürnberg the local release party which Martin announced a couple of days ago. I think we had around 50 participants, many from the local Novell office, but also people travelling by car for over an hour. The group was quite different: Developers, testers, users of openSUSE – also some people that just started using openSUSE and wanted to chat and celebrate with us. The youngest participant (my daughter) was 8 months old and sleeping most of the time.
We were fortunate to distribute openSUSE 11.1 DVDs and green hats.
I enjoyed talking with many that showed up and received as main feedback from many of those that I talked with: When will the presentation start? So, something to change for next time…
Thanks to Martin, Melanie and Jacqueline for the party – and thanks to all that joined us!
Both comments and pings are currently closed.