Let me present you the openSUSE forums statistics for February 2009.
Up to the 28th of February 2009, we achieved a membership of 23.464 (+2.142) members, 23.463 (+2.390) threads and 136.684 (+13.989) posts. The number in brackets shows the increase of the corresponding measurement compared to the last snapshot taken on the 31st of January 2009. The user activity, i.e. the number of individual visits to the openSUSE forums, was 12.382 for the observed period. Most users ever online still was 7.771 on the 2nd of December 2008.
The following diagram shows the monthly development of new user registrations, user activity, new threads and new posts since the launch in June 2008.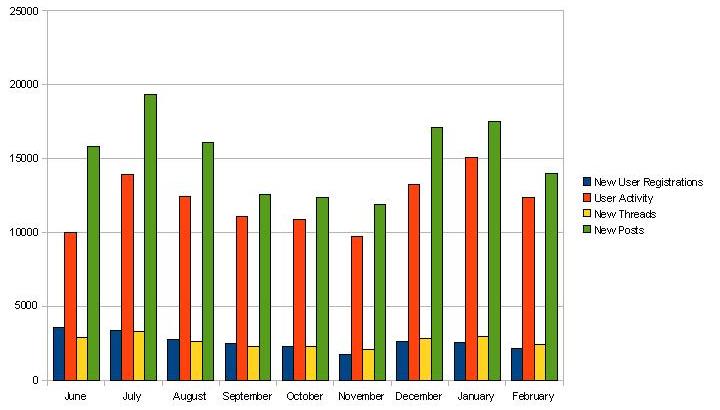 Kudos to our Top5 posters during February 2009
oldcpu – 566
caf4926 – 560
ken_yap – 362
mingus725 – 254
Malcolm – 223
Thanks as usual for making the openSUSE forums a worthwhile place to be.
If you haven't signed up for the openSUSE forums yet, please consider doing so. It's a great way to contribute to the openSUSE community in a non-developing capacity.
Any contribution to the recently announced "experts approach" collaboration between the openSUSE forums and the openSUSE Weekly Newsletter is much appreciated. If you're interested to participate, please don't hesitate to contact me for further information. Any comments and suggestions of the community about the OSF status reports is much appreciated by the openSUSE forums team. We're certainly interested to know what the community would like to be covered in coming issues.