Last weekend I spent on Chemnitzer Linuxtage 2011 which is a popular linux event in Chemnitz, Germany. It was the first time I have been there and was very positively surprised. It is a very well organised event, in a building providing the perfect environment and a large amount of volunteers helping to make the whole weekend enjoyable and relaxed. Thanks for that, it really was fun to meet so many people in this all-inclusive atmosphere :o)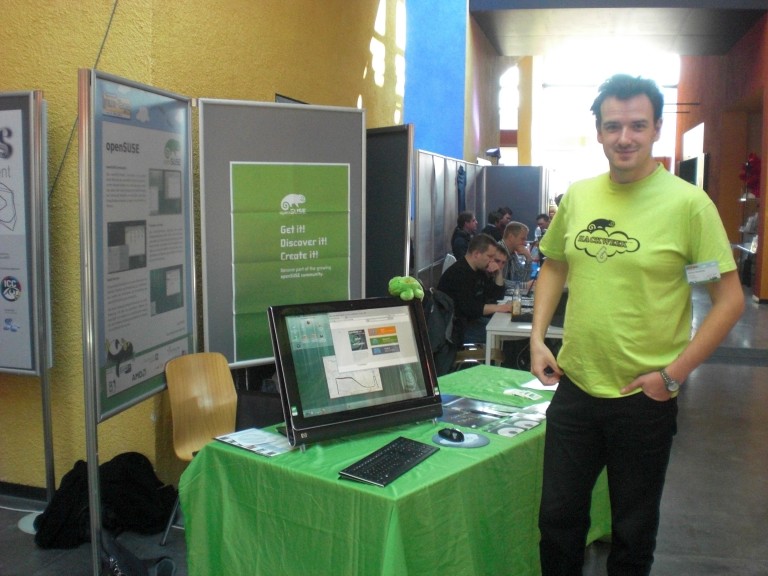 openSUSE had a booth there (thanks Fedora for the picture) and we were lucky enough to have brand new 11.4 promo DVDs there which were handed to interested people. openSUSE 11.4 in general is very well received at most visitors, they were quite happy with our latest release. That is also true for the feelings for openSUSE all over: I heard so much positive feedback about what we do and how we do it, for example the OBS with the collaboration features, the distribution or the activity all over. People recognize our efforts.
I gave a talk about Kraft, as people hinted me that there might be the right audience for the topic of Linux in the small business. The interest was huge, the room was more than full and people seemed to like the way I was approaching the challenge. Unfortunately I had to fight with the notebook/beamer phalanx in the beginning (I apologize for that) so that I had to skip the live demo of Kraft in the end. But still I got a lot of interesting discussions afterwards and got some nice contributions already. Thanks for that.
On saturday noon there was a "Distribution competition" where I was pulled in to show openSUSE. It went ok for all distros taking part and was fun for us presenting 🙂
Booster Michal was giving a workshop about creating packages in the OBS for multiple distributions and a very well received "whats new in 11.4?" talk was given by Sirko in the beginners track.
It was a great event, even though I quite exhausted arrived home late on sunday night. I will be there next year again.
Both comments and pings are currently closed.