Some week ago, I've stumbled upon a very promising font project. It's called the Exo Typeface Family and I think this could be a valuable addition to our distribution:

The sans serif font is beautifully crafted and contains 9(!) different width as you can see in the following graphic: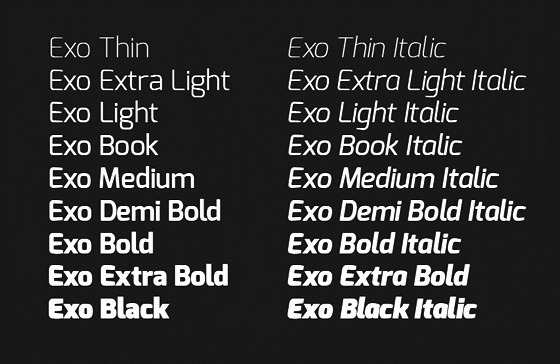 Natanael, the graphic designer, wrote about his font:
Today Exo is already a very mature font family, with over 700 characters supporting most Western, Central and Eastern European languages – and it can still go further! This coverage has been reached for all 9 weights, the maximum possible on the web. Each weight has an upright style and the corresponding 'true' italic style. Many 'techno' fonts have only the simple slanted oblique companion styles, but for the highest typographic quality it is essential to have true italics that are drawn specially.
Some unique OpenType features:
If this project reaches its funding goal it will be published in Google Web Fonts under the SIL Open Font License. Currently, almost 80% is pledged, but only 18 days are left. If you find this project useful, please help Natanael and make the Web a more beautiful place. I already did so. Thanks!
Both comments and pings are currently closed.