Jos Poortvliet wrote shortly before the conference about merchandising. Today, he updates us on the status.
Recap
As a quick recap from the earlier blog, note that the goal of the merchandising program is to support openSUSE ambassadors in visiting events and representing openSUSE there. The old program suffered from some issues, including bad planning, bad materials and very expensive shipping. It was simply not very efficient and we didn't know how much good it did (or not).
The plans
What we want to do can be best summarized as emphasizing quality over quantity and having a proper process. That means making a decent plan for supplying important events with a big box of quality materials and making sure we get a good return on the efforts we put in. And, as started with the Travel Support Program, we'd like the community to be in charge of it all, not SUSE.
Process
A simplified process picture would look somewhat like this:

The ambassador/local coordinator/TSP teams make an event plan every six months or every year, looking at what events are coming. They classify them, determining what level of support each gets and who is going. This is of course coordinated with the individual ambassadors. The team then asks the openSUSE Team at SUSE to send the materials to the ambassadors, who in turn go and visit the event. At the end of every month we can let the wider community know about the events we visited!
Where we are
Right now, we've assembled a list of events, based on ambassador feedback and earlier event plans. I've also figured out what shipping options we have and what they would cost and made a plan for the contents of the box. I'd like to start with two different boxes, a big and a small one, and I have selected about 20 events which would get a box. 7 events will have visitors from the openSUSE team, so we'd be supporting 27 events with materials and people. Of course, the Travel Support Team can support other events – and we have the ability to locally produce materials as well. And after the first year, all this can be changed, with more and cheaper boxes (or fewer and bigger), different event selections and improved content.
Issues
We're aware that this plan is not perfect: quite a few people who received materials in the last years won't with this plan. But that's what happens when you decide to focus on a smaller number of events… And we have and can think about solutions for that; for example, create a 1-kg event box with very reasonable shipping costs. Second, planning is hard and harsh, and we want to be flexible in that regard, and open for feedback.
Current status
So where are we now? Unfortunately, there has not been as much progress since the openSUSE conference as we hoped. A blocking issue is the availability of an artist handling the creation of materials we decided on. This will have to be done at SUSE with only a limiting role (for now) by the community artists. We are of course working on hiring somebody for this task but unfortunately one doesn't just hire somebody.
However, what we do have is a good idea of shipping, a decent event plan and we not only determined mostly what we'd like to ship in each box (and how heavy they will be) but also have already started talking to suppliers. So as soon as we can get the artwork situation resolved, we should be able to get up and running in relatively short order – hopefully before the end of this year.
To give you a bit of an idea of what we have, see the image below.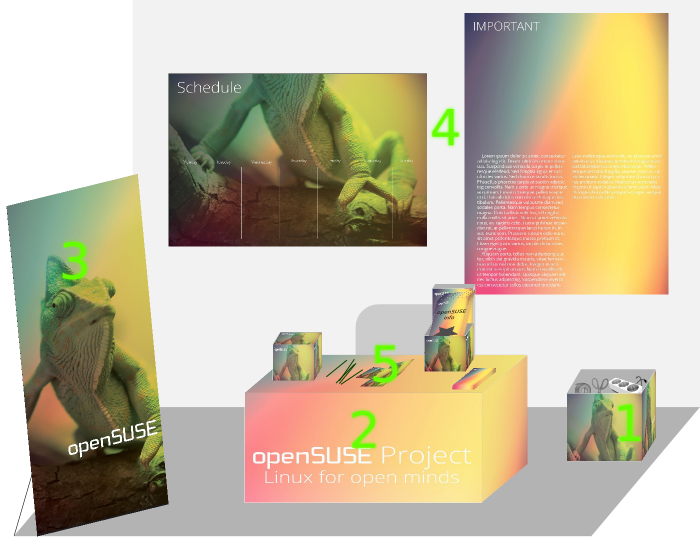 1. There is about 2 kg of basic tools like duct tape, colored markers, a network and a vga cable, a dozen openSUSE pens and some trash bags (only in the big box)
2. There is stuff for the table: a table cloth, flyer holder, table display (cube) and we'd like to have caps or bandana's for the team
3. Of course we have a cool and lightweight X-banner (if we can make it fit, they're either big, heavy or both)
4. We include some posters with information and for putting up a schedule
5. And then there are some give-aways like stickers, flyers and perhaps cool posters with Unix Cheat Sheets or other info on them
A big thanks for Anditosan for making the images that make the example booth picture here look good. He's already gathering potential artwork for the booths and if you have any input – direct it to the openSUSE artwork mailing list.
Next
So, the plan now is that once we have a designer, we create and print the materials, assemble the boxes, make appointments with the ambassadors for the events we've planned and start shipping.
Statistics
While merchandising seems to be on ice, development is still very active. Factory is now frozen with the Beta out, so we're going to focus on bugfixing. The top contributors last week were:
| | |
| --- | --- |
| Spot | Name |
| 1 | Tomáš Chvátal |
| 2 | Dominique Leuenberger |
| 3 | Michal Vyskocil |
| 4 | Petr Gajdos |
| 5 | Dr. Werner Fink |
| 6 | Bjørn Lie |
| 7 | Raymond Wooninck |
| 8 | Stefan Dirsch |
| 9 | Hrvoje Senjan |
| 10 | Sascha Peilicke |
Both comments and pings are currently closed.
Tags:No tags available
Category: Boosters