Today i tried out the Program called: yabsc. With http://software.opensuse.org/search?q=yabsc you can install the Program with one Klick. After the Installation the Program read the hints in the ".osc" Directory, and uses your Identity and Password for Checkin to Build Service API.
After the Program-Launch you see a Image like this:
On the left side you can see the Projects on your Watchlist. In the Center you see the Packages from the selected Project or Subproject. You can see the Buildlogs and Commitlogs directly.
On the second Tab "Workers", you can see a image like this: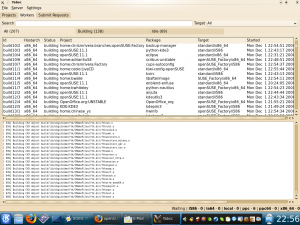 Here you can see the "actual" Status in the openSUSE Buildservice. In this tab you can follow the Buildlog on the fly.  This is an very good thing 🙂
The third tab, labeld as "submit requests", you can see your Requests. But for this Function i haven't an image, so i haven't actually submit requests.
Now i can say, this is an very good, and very short Programm. Try it out!
Both comments and pings are currently closed.