There are many approaches to managing software packages. Some users like to use command line tools like zypper. Others prefer a GUI tool like the YaST2 package selector. And even within such a GUI tool, there are many ways to deal with the packages you'd like to install, update or remove: Install a bunch of packages that make up a functionality like "KDE desktop" or "web development", find one specific package with a known name, or just look through packages that are available. That's why there are different filter views for those different approaches.
How do you select any of those filter views? In previous versions of the (Qt) package selector, we used to have a combo box to do that: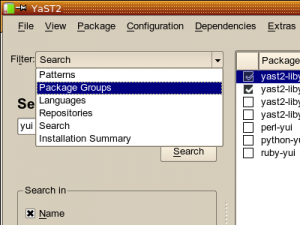 That's somewhat unusual, and there have always been critics who claimed that we should use tabs instead. Our standard reply was always that this would not really be helpful because there are so many of them; you'd run out of screen space quickly, and with the number of filter views we have, this would look overwhelming and confusing:
Ugh… not good. Not even at this screen resolution. Now think about 800×480 netbooks and more verbose languages like German, French or Hungarian. No way to make this fit on the screen. And left/right scroll buttons are the last thing you want for tabs.
So, what else could we do?

Reduce the number of filter views? Well, we've been down that road for a while. But new ones come along all the time, and it always hurts some users when we throw out their favourite one. The "RPM groups" (the one with a tree) was such a case; it had to make way for the newer PackageKit groups. A number of users complained.
And we have more filter views in store. There are many more cool things we could do. But this should not add to confusion, so right now, we avoid to add more views.
But how is everybody else doing it? Let's have a few looks at that.
What is it we are doing here? We are browsing for and through packages. So, let's compare it with other kinds of browsers. Let's look at Konqueror: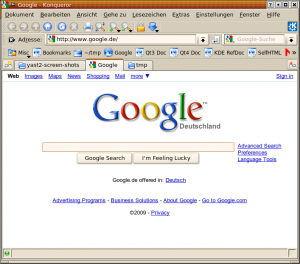 In Konqueror, you can use tabs. Once you got used to it, that's a powerful and efficient way to avoid cluttering your screen with multiple browser windows. They are all neatly tucked away in that row of tabs.
Another application that uses a similar approach is Konsole, the KDE terminal emulator: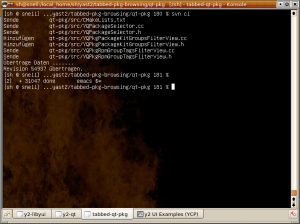 While in Konqueror you use the middle mouse button to open a link or a bookmark in a new tab, there is a limited number of options in Konsole. You select a session type from a pop-up menu on a special button on the bottom left corner: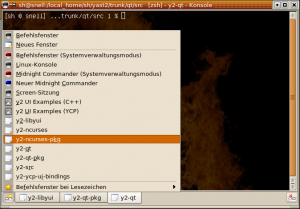 So, let's try someting similar with the YaST2 Qt package selector. Let's try to use tabs, but not in an overwhelming number. Let's open only a few of them right away. The user can open more if he likes.
First try:
Hm – or maybe put that "View" button in the top left corner?
Of course, the user can close any of the open tabs (except the last one) again – just like in Konqueror or in Konsole: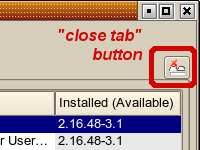 If we really do that, that means that the door is now no longer closed for new filter views. Some that could be added immediately are:
Show all available (not installed) packages (yes, available via "Installation Summary", but not that obvious to novice users)
Show all installed packages (also available via "Installation Summary")
Keywords / tag cloud ("KDE application" (linked against KDE libs), "GNOME application", "mail client", "Java application")
We don't want to overdo it, of course.
So… what do you out there think? Do you like it? Should we use tabs there? If yes, where to put that "View" menu? Left? Right? Elsewhere? Use a toolbar button with just an icon (like in Konsole) instead? Add it to the main menu, too?
Comments? (on topic please, there are other tools and forums for support or bug reports)
Both comments and pings are currently closed.