You, your friends and family are all invited to the double bonanza launch party of Ubuntu Karmic and openSUSE 11.2.
When: 14th November 2009, 5 pm onwards
Where: B.C.A. Dept., Faculty of Science, The M.S.University of Baroda, India Map
Agenda: openSUSE 11.2 and Ubuntu Karmic launch party, check out two of the most popular Linux distributions while having a party, bring laptops, USB sticks or your computer box for installation.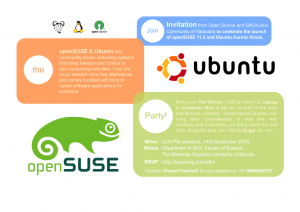 If you are not in Baroda that day, find a launch party near you to join or host one yourself.
Here is what you can look forward to: DVDs of two top Linux distributions, install fest, small presentations about what is new in this release, lucky draw for a couple of cool Li-f-e t-shirts, an of course meet the town's Linux community members.
The venue courtesy Prof. Vipul Kalamkar, the MS University, BCA department, thank you sir for hosting the event.
Both comments and pings are currently closed.