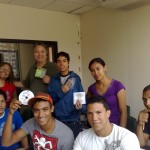 March 13th openSUSE Ambassador for Panama, Ricardo Chung (amonthoth), gave a talk at Universidad Interamericana de Panama (UIP is Laureate) for a small students group about openSUSE graphic installing procedures and customizations. How to add repositories, softwares applications and customize the desktop. This is the first of openSUSE talk series preparing activities for FLISoL 2010 at Ciudad del Saber. Educative scenarios as this one are the open source seeds for an open future and great development opportunities.
UIP it's maybe the only university on this country offering Linux Diplomados looking for LPI certification. UIP has a ProMetric Certification LPI Authorized Center.
Here they are the New Generation for open source.
Both comments and pings are currently closed.