Gnome3 launch party in Zürich, April 8th 2011
A group of 20 people met in ETHZ F26.3 room Friday afternoon (3pm to 7pm). To assist the Gnome 3 Launch party. We were expecting more people, but a so sunny weather, and a Monday off in Zürich doesn't help to keep people inside after a long winter. 🙂
Marcus Moeller showed us a deep overview of the whole Gnome 3 desktop, with the strength and weakness (non yet finished features or controversial ones).
Then there's some talks about features, what will happen unity/ubuntu/gnome etc …
On my side I did a late presentation about what's openSUSE project is, and its associated SUPER COOL tools like OBS and susestudio.
It was supposed to last 15 minutes long. I was asked only Tuesday night to do it! But in fact we spend more than half an hour demoing obs and susestudio. Really was cool to do.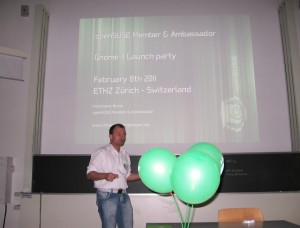 A special thanks to Biju Gopi Thilaka for setting up that party.
Biju Gopi was kind enough to share his slides with us, so keep reading …
Gnome3 resources
Go to gnome3.org website, to get a idea about the new features, you can eventually get the live cd (an openSUSE 11.4 32/64 bits) is proposed and a 32bits fedora latest
I (with the help of Izabele Valverde in fact) also found this videos series on you tube.
GNOME 3: Deeper Hardware Integration


GNOME 3: App-based Window Management


GNOME 3: Accessing Apps Quickly


GNOME 3: Fewer Interruptions


GNOME 3: Creating a Workspace


GNOME 3: Working with Windows
That's all folks for this openSUSE Ambassador report
Nota : just a word to my KDE's relatives, no I didn't nor will change my desktop. Gnome 3 looks pleasant but miss some keys features I need, and have under kde4 🙂
Both comments and pings are currently closed.