In January 2009, the openSUSE forums achieved the highest user activity ever since the launch in June 2008. The user activity measures the number of individual visits and is therefore an indicator for the vitality of the openSUSE forums.
Up to the 31st of January 2009, we achieved a membership of 21.322 (+2.550) members, 21.073 (+2.929) threads and 122.695 (+17.492) posts. The number in brackets shows the increase of the corresponding measurement compared to the last snapshot taken on the 31st of December 2008. Most users ever online still was 7.771 on the 2nd of December 2008.
The following diagram shows the monthly development of new user registrations, user activity, new threads and new posts since the launch in June 2008. We experienced 15.104 individual visits to the openSUSE forums in January 2009, which is an increase of 14% compared to December 2008 and is even 25% above average.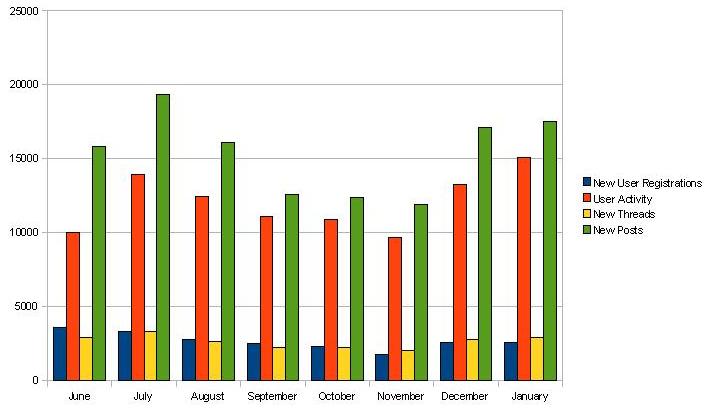 Kudos to our Top5 posters during January 2009
caf4926 – 575
ken_yap – 455
oldcpu – 439
Malcolm – 405
Axeia – 405
Thanks as usual for making the openSUSE forums a worthwhile place to be.
Any comments about the OSF status reports are much appreciated by the openSUSE forums team.