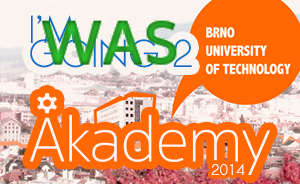 If running a booth is, for sure, an investment of time, energy and money (even if TSP contribute to help you), We often forget to say
how much it's important for our community and project.
Booths makes openSUSE alive in all open source events! and it's a great experience to live, for any of us.
Feel the beat!
I strongly believe that openSUSE has be to visible on events like KDE Akademy, Scale, Fosdem, Guadec.
It's not a question of "Bang for the buck", than a simple obviousness:
The obviousness is: if openSUSE has no booth there, you just see Ubuntu and Redhat, and let's add Debian, Mageia etc for Fosdem or Scale.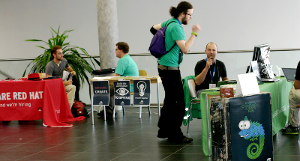 You all know how much I like our Geeko community. And when Akademy staff proposed us to run a booth, I said yes, great I will be there!
After comparing ways to go to Brno, the Geeko's car was the less expensive, and allow me to pick the demo touch screen at SUSE Headquarter.
So I took a full week off and drive 2000 kilometers to make it happens.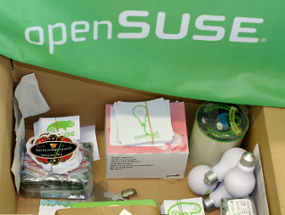 Open the Fun can
Running a booth is not that hard. You will find flyers in the booth box presenting openSUSE and related tools.
There's goodies like several kind of stickers, pens, USB flash keys, beer mate.
About the poster, if not allowed on walls, let's your creativity soar. Use boxes, a pen can also fix that big banner around the guard-rail.
On the human part, I would say than 3 persons is not too much. For example at Brno, the booth was very calm during the talks, but when the break
arrives, you just see 30-50 people coming all at the same time in your direction.Don't run away!
Organize yourself! For example one of the staff is delegated to spread swag, and drive attendees to the next expert.
Try to give as much as possible short-quality answers.
No matter if you are not at all technical guru, the priority is to welcome visitors and listen to them.

If you have a demo computer, organize a bunch of bookmarks related to the conference subject inside the openSUSE community.
At Brno, we were essentially demoing live factory with kde stable 4.14 and Factory with plasma5 and Frameworks 5, and all related web pages about kde on obs, wiki.
Our moto was What openSUSE can offer to KDE developers and contributors.
It's rarely on a booth that we can resolve a bug, but that's where a beginning of a social interaction starts.

Don't worry if you can't awnser directly, offer a visit card, try to write down the contact details and its related question.
You will, once the event is done, follow-up the contact with precious data, that will be really useful.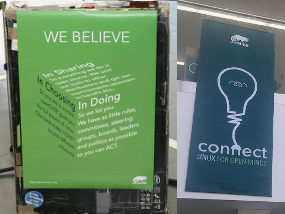 Beat the Green next on stage
As any other contribution, running a booth is an awesome experience.
It's the best way to meet users and potential contributors.
It's always an opportunity to evolve, a challenge to be done and an experience to share.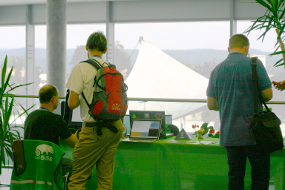 Back home, as usual a lot of things to do. But I feel important to share this experience in this lizard article, to post a few pictures, to share my
feeling with my fellow openSUSE community. I hope to see more of you, taking the challenge to run one, next to your location.
Do it, just run an openSUSE booth. You will learn a lot about you and our fellows, share with outcomers and meet others communities.
My final words are a big Thank you people who ran booth in the past,
and I encourage all of you still hesitating.
See you soon on stage!
More pictures available at: openSUSE booth KDE Akademy photo album
Both comments and pings are currently closed.