In the past days I've been packaging and fixing some issues on Unity 2D for inclusion on the GNOME:Ayatana repository in the openSUSE Build Service.
This gave me an excellent opportunity to test a few components share by both, Unity and Unity 2D, which is the case of 'unity-place-applications' and 'unity-place-files', both using Zeitgeist which is already in Factory for the upcoming openSUSE 12.1. We thank the integration of this packages to Federico Quintero. Thanks Fred.
A few more additional packages need some care and once they get updated and tested they will be uploaded to GNOME:Ayatana, at which time I will provide an installer (1-Click) for those willing to test Unity-2D. Unity 2D will be the first application to use the indicators I have prepared in the past which all all found working, except 1, the AppMenu (strangely it works on GNOME2 panel without issues).
This is how Unity 2D looks like. There are transparencies because I enabled 'composite' on metacity, which works very nicely. As far as I could understand, the developers of Unity 2D are also looking into implementing Compiz with Unity 2D, which would be sweet.
Unity introduces the 'dash' which is pretty much the following screen. Transparencies are enabled (though metacity composite) and the notification bubble belongs to NotifyOSD (already present in openSUSE 11.4 as optional). This is one of the three issues I have to fix, the icons displayed on the dash should have text underneath, it's not showing. The top icons are quick links to Program Categories and the ones bellow are the default applications which are setup in GNOME.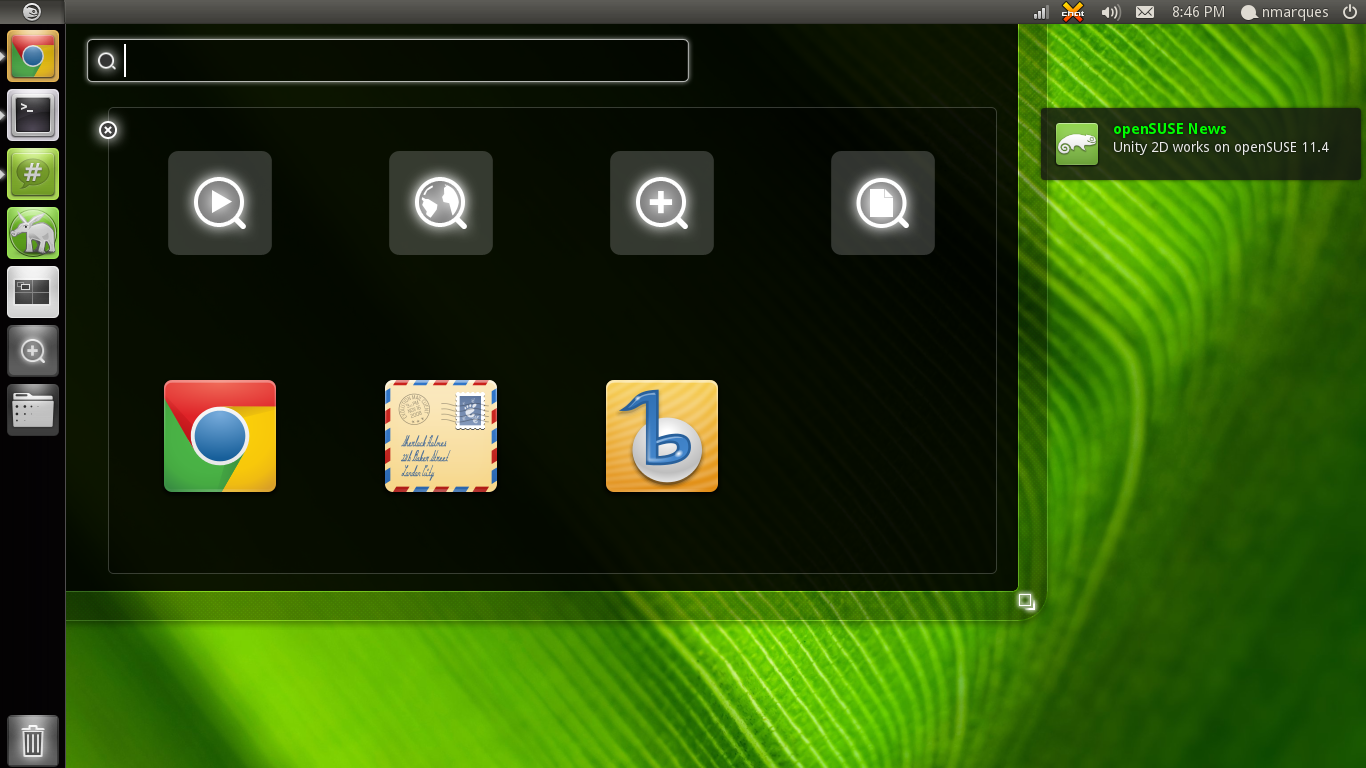 The launcher panel on the side auto-hides, and seems to be working. The three icons displayed in last are respectively: Workspace selector, applications menu and files. Everything seems to be working with them, and the 2 last are components shared with Unity, and they both rely on Zeitgeist. Here's a few captures of what they do…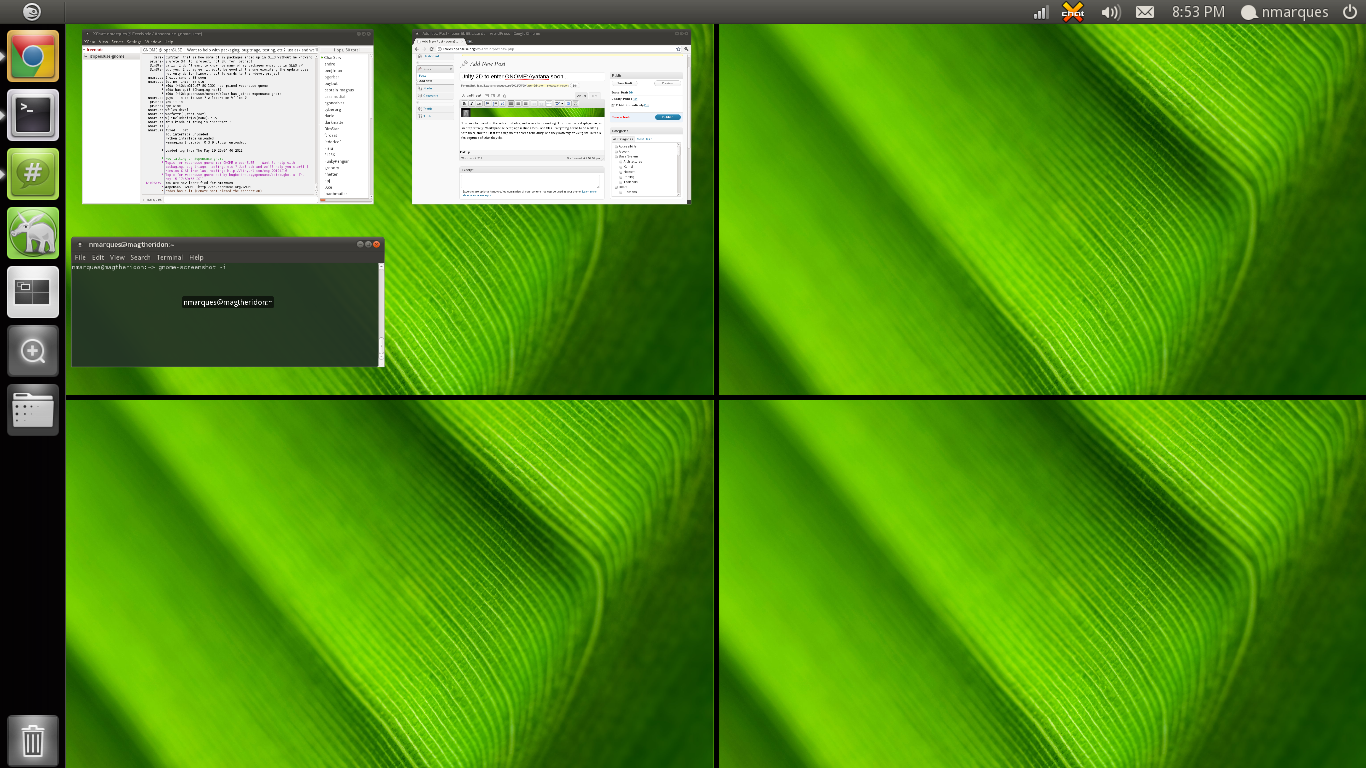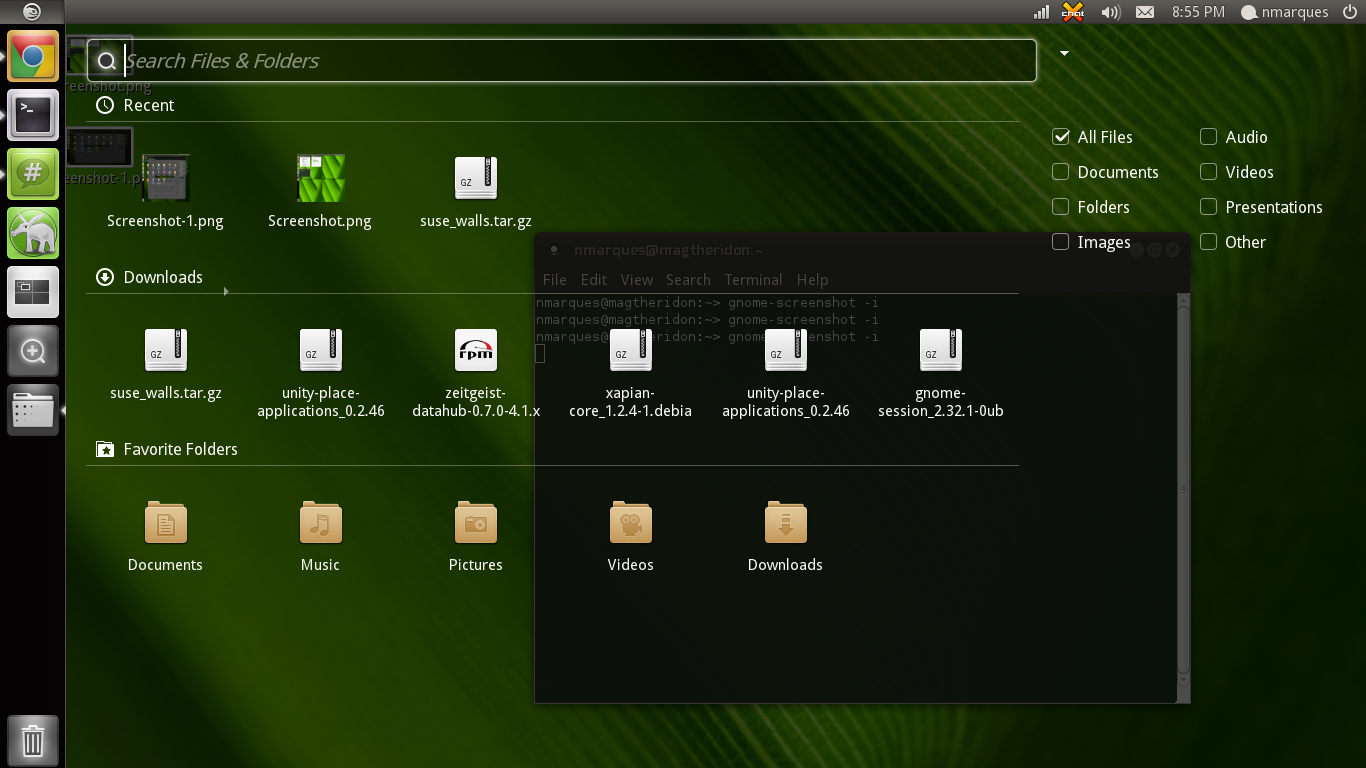 There's also a feature from Unity which is cute… The title artifact of the decorator window (metacity, which required a few patches) is removed and implemented on the top bar when the window is maximized. Sadly for me the AppMenu (menu proxy) isn't working properly, this is another thing that needs fixing…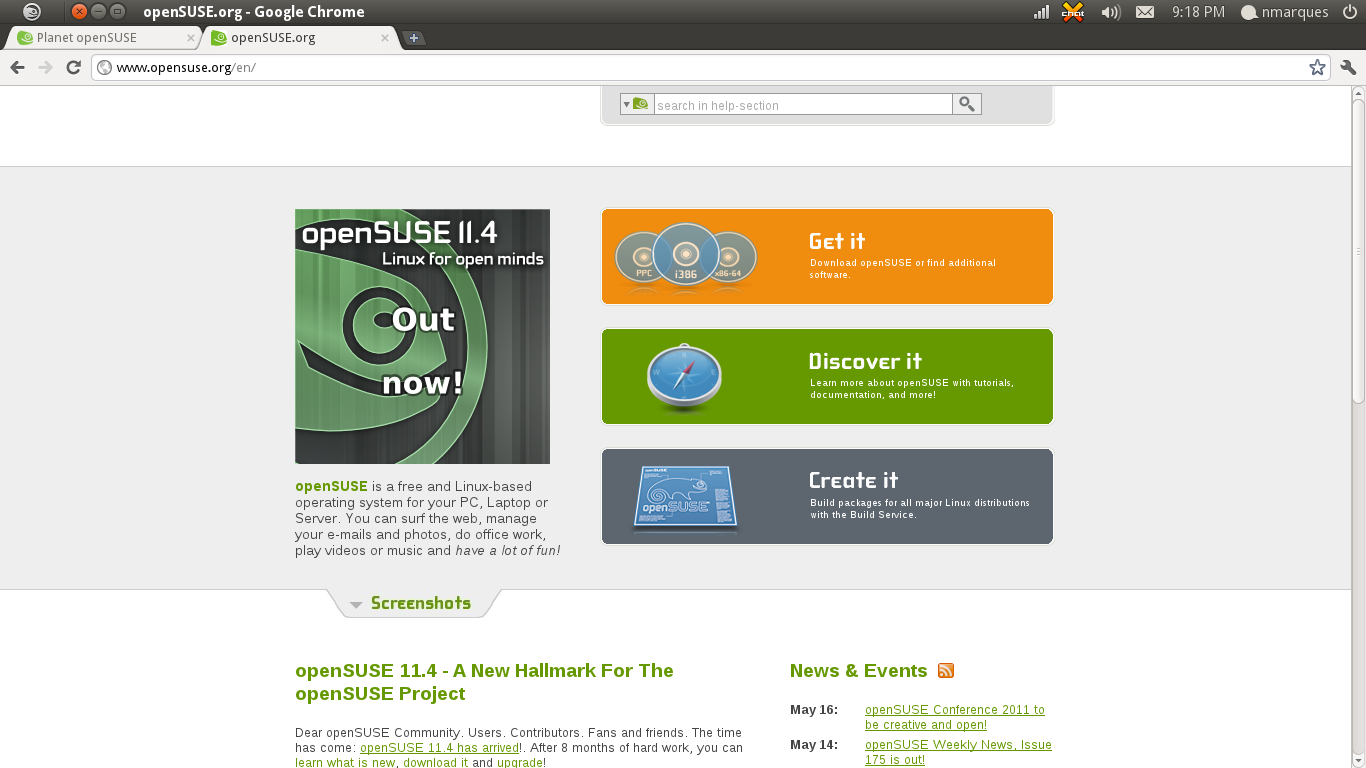 This should cover pretty much the functionality that is available currently. There's a few issues still remaining before I can push this to GNOME:Ayatana:
– I tried not to have the need to patch gnome-session, but since Unity relies on the Session Indicator to have this functionality, gnome-session will need to be patched (should be ok, because it also requires the backport patch for  defining –sessions for openSUSE 11.4).
– Unity 2D itself relies on a few gconf hacks that should be on a schema file. I've talked to upstream and this is planned already, so once it's release, that's when it will be published.
– There's one issue also with backgrounds and workspace switcher… unfortunatly the workspace switcher only renders wallpapers if they are in image format (no .xml stuff), so this can turn some wallpapers not to render, which eventually ends up in the background of the switcher being the one defined in GNOME as solid color.
So the order of TODO's for GNOME:Ayatana is pretty much this one:
1. Implement dependencies and then Unity 2D;
2. Make sure Compiz is well implemented, because Unity will require Compiz at it's best shape;
3. Make sure nux and other twisted dependencies are properly implemented;
4. Implement Unity itself;
This are the latest news for GNOME:Ayatana…